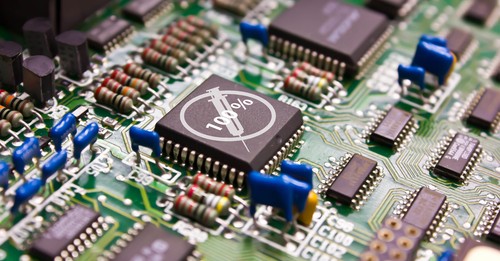 Nov 20th 2013
Evolution of the PCB Timeline
We look at how the PCB has evolved from its invention last century to the present day. We look at how PCB manufacturer, Newbury Electronics Limited, has evolved with the PCB too.
1800s
Photosensitive coatings and photoengraving are invented.
1907
Paul Eisler born in Vienna, Austria.
1913
Arthur Berry patents the print and etch method.
1914 -1918
WWI
1936
Paul Eisler Invents the PCB.
1939
WWII begins.
Paul Eisler leaves Nazi Germany for England and continues PCB research.
1943
Paul Eisler creates a radio with a PCB. Files patent. Soon after, PCBs are integrated into the war effort and become widely used.
1945
WWII ends.
Post WWII - PCBs are adopted more widely. PCBs Evolve and begin to shrink in size, allowing inventions to become smaller.
1956
Newbury Electronics is established, producing manufactured circuit boards.
1957
The Institute for Printed Circuits is founded in US.
1978
Newbury begins to produce 'plated through hole' PTH circuit boards.
1979
First CNC drill and routing machine is installed.
1980
New Newbury PCB factory is built and opens at Faraday Road.
1987
CADCAM computer aided manufacturing commences. Automatic Optical Inspection (AOI) for bare PCBs introduced.
1989
Multilayer circuit manufacture begins at Newbury.
1990
Laser plotting of PCB artwork is installed.
1992
Flying probe electrical test is installed.
1995
PCB assembly service commences at Newbury. US PCB Production reaches $7.1 billion.
1996
The first pick & place machine for component placement is installed at Newbury.
1997
Periodic reverse pulse plating is installed for electrolytic plating.
1999
The PCB Train online service is launched.
2002
Vacuum lamination multilayer multi-layer press is introduced.
2003
The PCB assembly division moves to new factory (Ampere Road).
2005
Inkjet printing of legends is introduced.
2006
AOI inspection of populated PCBs is introduced.
2010
Laser cut solder paste stencil manufacturing operations starts.
2012
The fifth automatic SMD placement line is installed at Newbury.
2014 and into the Future
Newbury will introduce direct laser imaging of copper plating and resist masks to its PCB production.