The PCB Fabrication Process at Newbury Electronics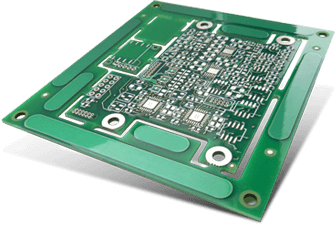 What is the Bare PCB Fabrication Process?
The bare PCB Fabrication process is often misunderstood to be of little importance however the slightest fault in the bare PCB will render any electronic assembly unserviceable. The PCB is usually the only bespoke component in an electronic system. It is the substrate upon which all the other components are commonly mounted. If it were a house, it would be the foundations. If the foundations fail, the house will collapse. It is wise to build your circuit on good foundations.
The PCB Fabrication Process
Manufacturing a PCB is a long series of sequential processes. A PCB fabricator takes copper clad fibre-glass and sequentially drills, prints masks, plates copper, tin, nickel, silver and gold, etches, bakes, chemically strips, cures fibre-glass and epoxy resin under vacuum and pressure, routs, and tests to produce a printed circuit board that should last a lifetime. It is a complex process interwoven with frequent quality controls required to attain lifetime zero defects.
Here is a brief overview of the PCB fabrication production process.
The PCB Fabrication Process