The PCB Fabrication Process at Newbury Electronics
What is the Bare PCB Fabrication Process?
The bare PCB Fabrication process is often misunderstood to be of little importance however the slightest fault in the bare PCB will render any electronic assembly unserviceable. The PCB is usually the only bespoke component in an electronic system. It is the substrate upon which all the other components are commonly mounted. If it were a house, it would be the foundations. If the foundations fail, the house will collapse. It is wise to build your circuit on good foundations.
Why choose Newbury Electronics Ltd?
We are one of only a very few PCB manufacturers to employ the most up to date digital manufacturing process where all imaging is direct from digital data, and no intermediate photographic film tooling is necessary. This gives much better registration (both solder resist to pad and drill to copper land) and permits a finer track and gap capability.
PCB Train's 1 Day Turnaround Fabrication Service
PCB Train exists to supply PCBs you can trust. Our plant is dedicated to manufacturing high quality PCBs in small and medium batches using the very best production plant and techniques available.
PCB Train provides a 1 Day Turnaround Express Service for PCB Fabrication. Find out more about our low-volume PCB manufacturing services here or Start your Online Quote

Get a full-service laser stencil quote from our sister company
PCB Train and buy online today.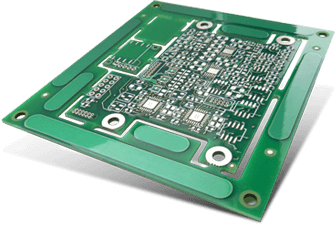 The PCB Fabrication Process
Manufacturing a PCB is a long series of sequential processes. A PCB fabricator takes copper clad fibre-glass and sequentially drills, prints masks, plates copper, tin, nickel, silver and gold, etches, bakes, chemically strips, cures fibre-glass and epoxy resin under vacuum and pressure, routs, and tests to produce a printed circuit board that should last a lifetime. It is a complex process interwoven with frequent quality controls required to attain lifetime zero defects.
Here is a brief overview of the PCB fabrication production process.
The PCB Fabrication Process