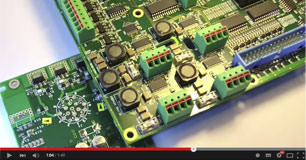 Jun 3rd 2015
Have You Seen Our New Promo Video?
Newbury Electronics is pleased to announce the release of our new video promoting our PCB & electronic manufacturing services. With an element of tongue-in-cheek, the purpose of the promotional video is to demonstrate all the values that are important to Newbury Electronics; quality, reliability and value for money.
Many of our clients use Newbury Electronics for all their electronic manufacturing needs and we produce 1000's of PCB designs every year for clients all around the world. This video reaffirms our status as one of the UK's most trusted suppliers of PCB and electronic services.
This is an exciting time for Newbury Electronics as well as our sister website PCB Train as we have recently upgraded our PCB Train Express service to provide same day turnaround for prototype PCB orders.  So long as the order data is received by 9am, we will despatch that same working day and get it to you by 12pm the following day.