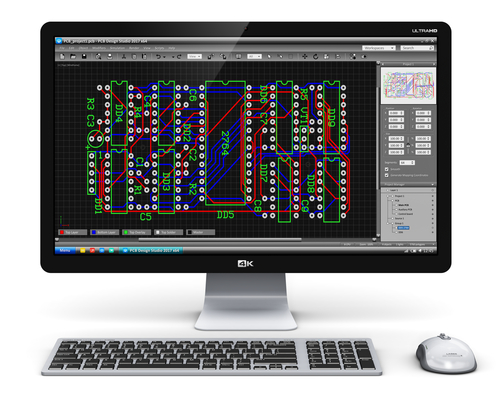 Oct 13th 2017
Which PCB Layout Software Is The Best In 2018
Which PCB Layout Software Is The Best In 2018?
When it comes to PCB layout software - there are many options available. It can be a bit daunting for newer designers, as well as anyone who's not kept up to date with the recent developments in the different software options. Depending on your intended specification of your PCB, there's an ideal software for your needs. This includes things like the number of layers, overall user interface, ease of use and many other options. Every year there's more and more software available - we're here to help you sift through the choices, save time and find you the best software for your project.
The Best Free PCB Design Software
Freelance, independent designers and smaller companies will be looking for free design software. That's why we've decided to cover this one first.
A lot of free software can be:
Limiting in functionality
Constantly pushing you towards the premium service
Poor user interface
Little to no update or support
However, there are two main, well known and reliable free software choices available. One choice will be better one year, the other the next. As of 2018, here's the rundown of both Eagle and KiCad as they stand currently. This analysis is sourced from industry experts and online design communities.
Eagle
Eagle (or Easily Applicable Graphical Layout Editor) has both free and premium services available. The free service however is very workable and practical. Their advertised features include a schematic editor, 3D PCB models, online component libraries and a PCB layout editor. Some find the software difficult to use however, and its main competitor has developed significantly in recent years.
KiCad
KiCad is a free, open source design software option.KiCad offers similar features as Eagle but with a different UI. Most users agree that in 2018, KiCad is one of the favorites of the individual designer community. What sets it apart is additional community support, more thorough tutorials, adaptability to different operating systems and the use of plain text files. This makes it more adaptable for use.
The winner is...
KiCad has pulled ahead in recent years, perhaps due to its open-source nature. It's UI and accessibility have also been generally regarded as superior to Eagle. This may change as both get updated however, so stay tuned!
The Best Paid PCB Design Software
These options are more for businesses who require their software to go further in terms of features. Often they're far more intuitive to use, as well as offering more options for customisation and opportunities to link with other programs if necessary. They can be expensive however, depending on how you'll be using the software. There are many competitive options available.
Altium
Altium is the most well known design software - but it comes at a premium. Although their pricing depends on your situation - we can find some prices from 2013 which have likely risen by this time. A perpetual licence of Altium Designer is around $7,245 (or £5,493.16) and comes with a 1 year subscription including updates, support and additional content. The software itself is said to be high-quality, albeit relevant Reddit communities have stated it isn't good enough to warrant the cost. There have also been criticisms of the support available. It should be kept in mind however that these users are often smaller scale designers instead of business engineers and may have some slight bias as a result. They are still known by reputable sources as one of the best available options based on capability of the software.
Diptrace
Diptrace has gained signficant popularity quickly due to it's relatively low cost and ease of use. There are many different packages available, priced accordingly to the maximum pins and signal layers available. These start out at as little as $75 for 300 pins and 2 signal layers - and go up to unlimited pins and layers at $1,195. The software is easy to use, but has also been said to be somewhat limiting.
OrCAD PCB Designer
OrCAD is a premium design tool with all of the usual features, but at a slightly lower cost. OrCAD also comes with different levels of features depending on your needs, with many different options available. There's also a free version
Easy-PC
The Easy-PC software is a professional PCB design tool at a hobbyist price. It's designed to be easy to use whilst still having every feature you could ask for. You can find the Easy-PC software on our sister site PCB Train. If you decide to purchase a licence off of there, you will receive 25% off of the cost of a future PCB Train order (terms and conditions apply). There are various levels of subscription available depending on your needs, making this a strong contender.
The winner is...
With all of the options available to you, this is a difficult choice. We recommend taking a quick look at the different services available, user interface and future support available after your purchase. Altium and OrCad are geared up towards professionals or businesses, whereas the free options and Diptrace are better for hobbyists. Easy-PC bridges the gap and is suitable for both. We hope this information helped you find the right software for you!